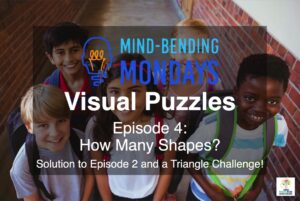 In "How Many Squares", students learned new strategies and were given an additional square challenge!  In this episode, we will build on the strategies discussed in episode 2 to solve the last square challenge.  We'll then apply those strategies to a new puzzle involving triangles!
A few months ago someone posted a picture with the question "How many triangles do you see?" on a popular neighborhood website.  I don't always read it, but because I love these puzzles, of course I looked at the thread.  It was very interesting!  The count keeps changing, but the thread lasted over a week and had 150 – 200 posts!  
You have probably seen variations of these popular puzzles on social media, and adults sometimes find them challenging, too!  The history is unclear, but a search for this type of puzzle will prove that you can find them everywhere!
Engaging, however, is only part of the equation.  Research shows that visual/spatial thinking is an important part of development and impacts many areas of our daily lives!  This is an important skill, and yet we often do not focus on this as much as some other thinking skills.   
Do you want to use this puzzle immediately?  Use the link to copy Google slides!
What do you think?  We would love to hear your ideas and suggestions!  Leave a comment below to be entered to win a FREE prize this month!  We look forward to hearing from you!

If you like this, please consider sharing it on one of these sites by clicking on the button.
Thank you!