Perplexing Puzzles  
Do You Want to Be a P.I. (Puzzle Investigator)?
These puzzles are one page, engaging  puzzles!  In addition, the videos are designed for students!  
Here is the video solution to the most recent puzzle.  Did you miss the puzzle?  Go to the original post to see if it is still available.  They are only available until the end of the month.  Do you want links sent to your inbox?  Join our email list!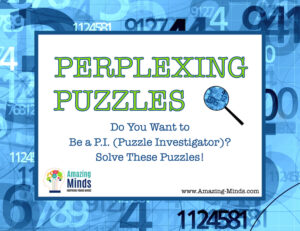 Please let us know if there is a way we can help you!  Thank you for all you are doing!
If you like this, please consider sharing it on one of these sites by clicking on the button.  I appreciate you and am thankful for your support!
Thank you!