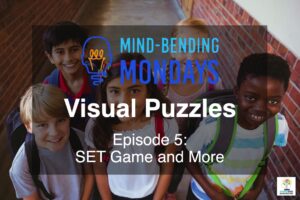 SET game is the recipient of over 25 awards, including Mensa Select!  Students of all ages love to play because it is fun, but it also builds important thinking skills!  The history of SET is interesting, too! 
Research shows that visual/spatial thinking is an important part of development and impacts many areas of our daily lives!  This is an important skill, and yet we often do not focus on this as much as some other thinking skills. In this episode, we discuss a variety of ways to easily incorporate this award-winning game in your classroom!
We don't have Google slides for SET game.  Try the daily SET challenge!
If you like this, please consider sharing it on one of these sites by clicking on the button.
Thank you!