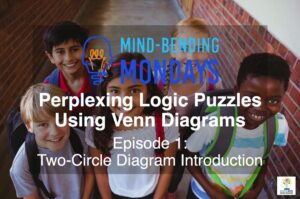 What tasks can be used to help 8th grade students understand two-way frequency tables AND help 3rd graders write equations with variables?  
In today's episode we are using two-circle Venn diagram logic puzzles.  Venn diagrams are often used to understand classifications and set theory.  In this series, we will discuss how these puzzles can be used to help students develop a deep understanding of several mathematical concepts.  Here are a few of the mathematical concepts that will be directly addressed in this series:
Elementary School Students:  make sense of problems and persevere in solving them; represent problems using equations with a letter representing the unknown quantity 
Middle School Students:  write and solve equations using variables; write and solve systems of equations; determine probabilities and percentages; construct and analyze two-way frequency tables
This episode is an introduction to equations, but it is not an introduction to Venn diagram puzzles,  If you have not used these and want to use them with variables, you might want to watch this episode of Mind-Bending Mondays first.  (This episode shows you how to introduce the use of variables, and all the materials you need are available!)
John Venn was an English logician who taught logic at Cambridge.  These challenging and stimulating puzzles can help students improve critical thinking skills and build a stronger conceptual understanding of mathematical concepts.  These puzzles are also engaging and fun!

If you like this, please consider sharing it on one of these sites by clicking on the button.
Thank you!