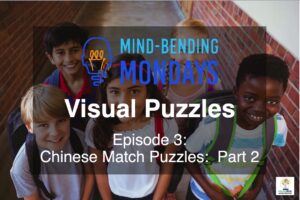 DId you love the Chinese match puzzles from episode 1?  These fun, engaging puzzles are a great way to build visual thinking skills!  This episode builds on episode 1 by using  logical and mathematical strategies to solve additional puzzles!  Do you want ideas on how to help children solve these without telling the answer?
In this episode, we will build on the strategies from episode 1 to solve more challenging puzzles.  We'll also discuss an easy way to differentiate for ALL students!
Research shows that visual/spatial thinking is an important part of development and impacts many areas of our daily lives!  This is an important skill, and yet we often do not focus on this as much as some other thinking skills.   In the next several episodes, we will share multiple ways to quickly incorporate these puzzles into you classroom routine!  Use the link below to download Google slides to use immediately!
What do you think?  We would love to hear your ideas and suggestions!  Leave a comment below to be entered to win a FREE prize this month!  We look forward to hearing from you!

If you like this, please consider sharing it on one of these sites by clicking on the button.
Thank you!